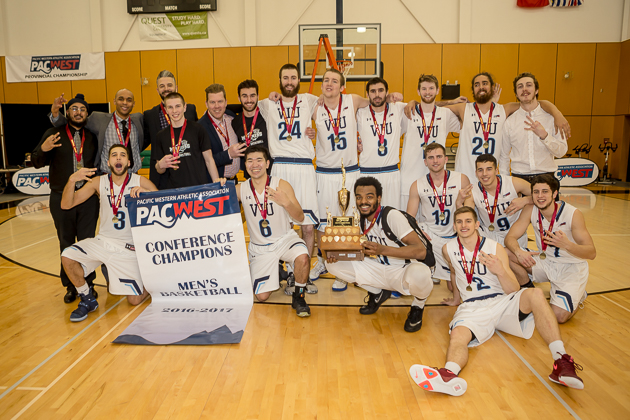 Photo courtesy of Vancouver Sports Pictures
For the third straight season and fourth time in nine years the VIU Mariners are the PACWEST men's gold medalists after a 94-77 win over the Capilano Blues on Saturday night.
The Mariners used 49% shooting from the field in the victory led by tournament MVP Usama Zaid who collected a game high 24 points, seven rebounds, three assists and two steals. Bryson Cox was equally impressive scoring 19 points, had nine rebounds and seven assists and was named the player of the game. Jalen Schlegel chipped in with 17 points and seven rebounds.
Defensively the Mariners created 21 turnovers and held the Blues to 18% shooting from behind the arch.
"This one's special," said head coach Matt Kuzminski. "The togetherness of this team made it special and different from the last couple of years."
The game was tied at halftime before the Mariners exploded for 32 points in the third quarter and held the Blues to just 16 to separate themselves and never looked back.
The silver medalists Blues shot 41% from the field led by Greet Gill who finished with 22 points and Hassan Phills who collected 21 points.
The Mariners will now board a plane in two weeks and represent the PACWEST at the CCAA national championship held at Holland University in Prince Edward Island.
Following the gold medal presentation the tournament All-Stars and MVP were announced:
All-Stars
Reese Morris – Douglas College Royals
Grant Campbell – Douglas College Royals
Hassan Phills – Capilano Blues
Greet Gill – Capilano Blues
Jalen Schlegel – VIU Mariners
MVP
Usama Zaid – VIU Mariners